At the end of the semester, I joined in a student conversation about Deaf Characters in Comics and Graphic Novels. This is certainly not a comprehensive list but this evening I was thinking about what one of my students mentioned. I did a google search and found these three mentioned. I have discussed the use of graphic novels in an academic setting but I am just not very familar with them. I had what I called "comics" and even illustrated versions of poems, short stories, and even a fully illustrated series of Anne Rice's Vampire Chronicles but I never thought about using them as a teaching tool. I'm going to look into this. For now, here are the three titles that I found.
Avatar Book 1: A Look into the Abyss by Script by Juan Miguel Aguilera, art by Rafael Fonteriz SAF Comics, (2003).
Manuel Gomez is a new breed of detective in the high-tech world of cyber-crime. He is born a "deaf mute" and communicates with special glasses.
Echo, also known as Ronin, is a Marvel Comics superheroine and a
supporting character of Daredevil. She debuted in Daredevil Vol. 2, #9 (Dec. 1999), and was created by David Mack and Joe Quesada. She is a Hispanic Native American and one of the very few deaf comic characters.
Find more information at
http://en.wikipedia.org/wiki/Echo_(comics
) and
http://www.marvel.com/universe/Echo_(Maya_Lopez
).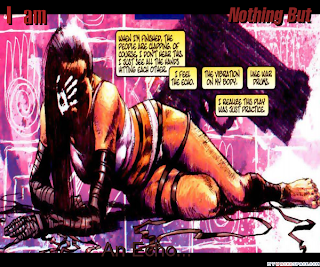 Archie Comics "The Sound of Silence," is about a little deaf girl named Stella. In the story, Archie feels sorry for the the deaf child, and her parents are ignorant of the fact that deaf children can learn. Archie teaches the little girl how to read lips. 1970s